So, the radio I bought was obviously not in the greatest shape, though I have seen some amazing restoration work by others on far more damaged radios. This one was primarily dirty, and had the normal scratches and paint splatters for a 76 year old radio.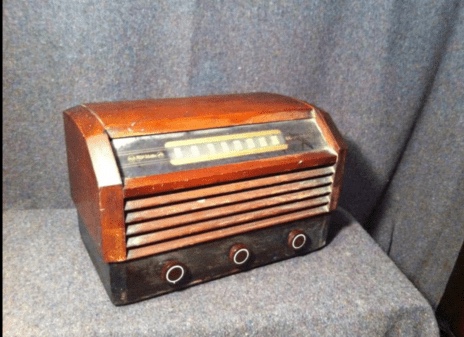 Given my original stated goal of making this unit similar to an heirloom, I had to do some cleanup, and probably refinishing.
Physically, at first glance, it looks pretty good, and it might be. Upon closer inspection, I noticed that one of the sides was warping slightly and separating from the top and front housing. The radio's right side had a repaired spot of some form – at this point, I can't tell if it's wood filler, paint, or just something smeared on the housing. The bottom also had quite a bit of grime built up around the controls, which is to be expected.
Based on my google searching for images of this radio, it sure seemed like there were a wide variety of finishes available, ranging form pecan or gunstock to the darker more reddish color my radio currently is. This led me to question what the original finish on this radio may have been.
For this work, I called in an expert – or at least an expert compared to my level of knowledge. My wife, Melissa, had done some work deglossing and refinishing the bathroom cabinets in our previous house before moving, and in that case, it completely transformed those bathrooms.
Once we located the stuff we had bought for these previous projects (namely the sanding deglosser), we started in on the radio as a couple's project.
The first application of deglosser really turned into a de-griming effort. depending on where we were working, the rags lifted some of the original gloss, but also 70+ years of oil and grime that was just left behind, even when cleaning. We got a later start in the day, and were only using soft rags, so this was just a "first cut", but it certainly made a difference!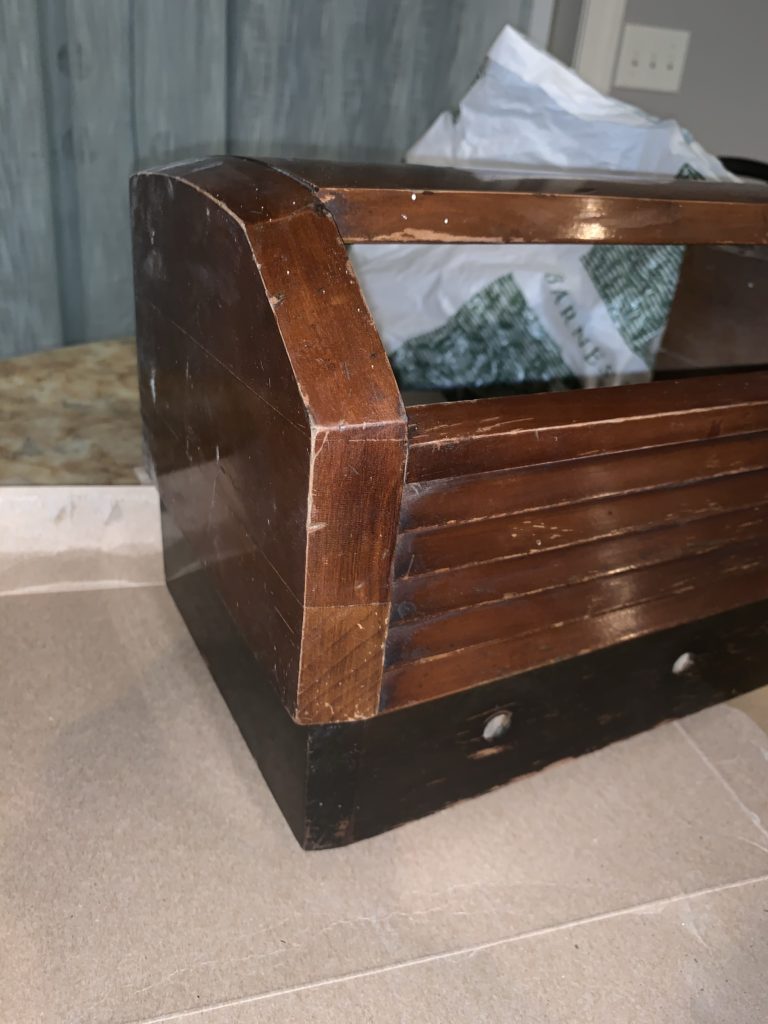 this did start making some of the wood grain really glow through the finish on the radio – so we can see what's under the original stain. As one can see, there's a lot of work left – the louvered speaker grill is not the easiest to work with, and has a lot of small tight corners to hold grime.
A timely facebook post in "Antique Radio Rescue" yielded some helpful advice on how to approach this project, so we'll see how that goes-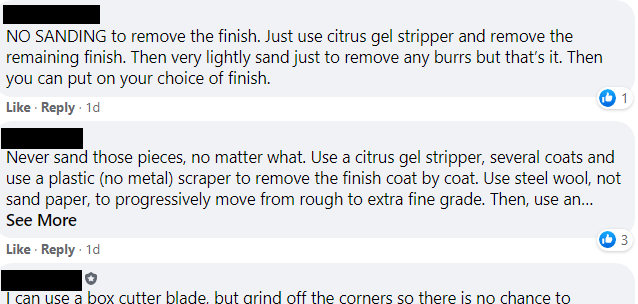 Note, these were suggestions for a radio that was in far worse shape than mine, but they did provide for a little inspiration.
so I'm off to the store for a scrubbing pad (to help with the deglosser to finish first round cleanup), and some citrus gel stripper to take the case down to a point where I can stain it the desired color. In this case, I am currently planning a pecan color for the top portion of the radio, and an ebony stain for the control/bottom portion. this will not match my original sample piece exactly, but should be in the same ballpark for feel.
I also need to invest in a larger clamp, as I'll need to do some work to get the side panel pulled back onto the case… this may take longer than the electrical part!